A flickering light bulb is the electrical equivalent of a dripping faucet. It may not seem like a big deal but soon enough it will start chipping away at your sanity. Before you throw the lamp and the table it was on out the window, let us diagnose the issue.
Flickering lights don't have to be your dim future when you keep your home's electricity working great. Once you figure out what's causing the flickering, you may be able fix the problem yourself. Here's a list of possible reasons why different lights may flicker and how to fix the problem.
1.Does Your Light Bulb Have A Loose Connection?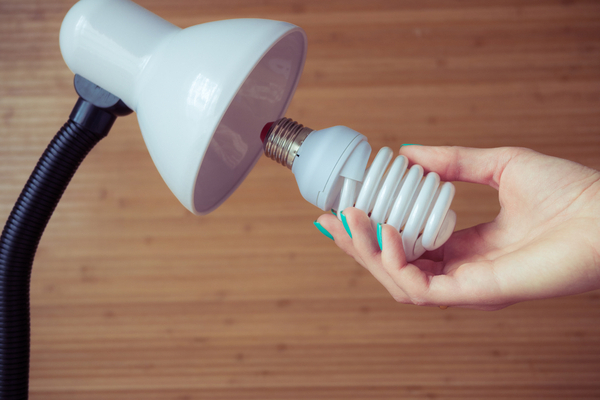 The most obvious and easily fixed reason why your light bulb is flickering is that it's not properly seated in its socket. If this is the case, it'll periodically disconnect from its power supply.  When the bulb flickers quickly and repetitively, it's continually re-connecting and disconnecting from the power in the lamp. If the light flickers when you nudge the lamp, then the bulb is probably loose.
Fixing a loose bulb is hopefully as easy it sounds, and you just need to tighten it. Once it's fully tightened, the bulb's receiver should be properly connected with the lamp's power supply. To tighten your bulb, simply make sure the bulb is cool enough to touch and turn it clockwise in its socket. Don't try to force the tightening; if it's not easy to turn, the issue may lie elsewhere.
2. Is Your Light Bulb Faulty?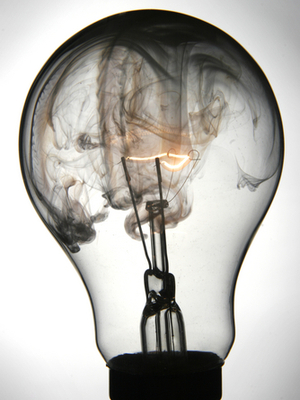 If the bulb is tight but still flickers constantly, it could be faulty or burned out. Incandescent light bulbs can stop working correctly for all kinds of reasons. Contact problems, faulty wiring connections, worn-out receptacles, or a bad filament can all cause flickering. Often, these problems occur as the light bulb ages. They could also happen as the result of wear-and-tear, improper voltage, or bad wiring inside the fixture.
Older fluorescent lights won't turn on sometimes and are more prone to flicker if they are dying. You can try rotating a bulb in its fixture to create a better connection, but chances are, it needs to be replaced.
Replacing light bulbs is easy and relatively cheap. As long as you tightened the new bulb correctly, your flickering should stop. If not, read on.
3. Is Your Light Bulb Fixture Causing it to Flicker?
An easy way to check if your light fixture is the problem is to remove the light bulb and try it in a different fixture. If it works, it may indicate that the first fixture is the problem. Over time sockets can wear out and the metal components no longer make a secure connection. The internal wiring could also be faulty.
A worn out fixture will need to be repaired or replaced. If the fixture is connected to your home, you may wish to have a professional electrician make the repair or replacement.

4. Is the Light Switch or Circuit Causing Your Lights to Flicker?
If it's not the bulb or the light fixture, it may be that your home's wiring is the reason why your light bulbs are flickering. A bad connection in your fixture's on/off switch may result in irregular flickering. If you wiggle the switch and the light flickers, you've likely found the problem and you can replace that switch.
If you experience multiple lights flickering, especially when you have other appliances running, it may be an overloaded circuit. Your home is wired on different circuits – usually room by room – that deliver a finite amount of electrical current. If you have too many items plugged in or are drawing too much power from the circuit, it may affect your lights. You've probably seen this when you turn on a high-power appliance like a blender and the kitchen lights dim.
If your home's wiring is older, it may not be keeping up with increased power demand. A professional electrician can replace your service panel and supply your home with more amperage to meet your needs.
5. Why Is Your LED Light Blinking on and Off?
You've upgraded your home to more efficient and longer lasting LED bulbs. Good plan. But are you using a dimmer switch? Not all LED bulbs are dimmable. Only certain kinds that are labeled "dimmable" will work, especially with an older dimmer switch.
You can replace the light bulb with the proper type, but you may need to upgrade your dimmer switch as well. A professional electrician can advise you on the best way to upgrade your lights and switches to make sure they are compatible and function properly.
How Many Times Do You Need to Change Your Light Bulbs?
If flickering bulbs and lights that don't work properly have left you in the dark, give Mike Diamond a call. We're your L.A. area experts for all your home plumbing and electrical needs. And even when you can't see, we're your "smell good plumber!"
The post Why Is That Light Bulb Flickering? appeared first on Mike Diamond Services.